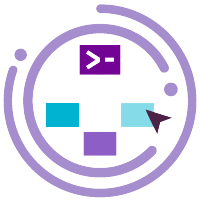 With OmniStudio, you can create complex, industry-specific experiences on Salesforce with digital engagement tools. By using Lightning Web Components' UI and styling flexibility, designers can create guided brand experiences resembling flows. These experiences can also be customized to provide users with data sourced from Salesforce as well as other enterprise applications using drag-and-drop ETL (extract, transform, load) capabilities. A low-code alternative like this can change the game for organizations looking for engaging and sleek user experiences.
Here is an overview of OmniStudio
OmniStudio consists of 4 main components:
FlexCards
Your customers can access relevant tasks and information at a glance with FlexCards. A simple summary of all pertinent information for a given transaction can be provided by these components, making customer transactions easy to use.
It is possible to display multiple records of data in a consistent series of stylized cards using FlexCards.
FlexCards can also be embedded within OmniScripts to provide context information or run subprocesses as users progress through the process.
These are a few excellent uses for FlexCards:
➤These are a few excellent uses for FlexCards:
➤ Displaying policy information for an insurance customer with actions to Pay Premiums, Modify Coverage, or File a Claim.
➤ The user can compare medical plans before selecting one as part of an interaction.
➤ Along with the weather information, you can see the 7-day forecast.
OmniScripts
The OmniScript is a guided experience that guides users through complex business processes. Applications can be built seamlessly across industries using its drag-and-drop editor.
Explore the advantages of Omnistudio
➤ Innovation is accelerated with declarative tools that help you go digital fast
➤ Quickly deploy business and industry-specific processes to automate interactions;
➤ Simplify integrations using drag-and-drop configuration with a modular, micro-service oriented approach;
➤ Build flexible, branded interfaces with low-code, WYSIWYG configuration;
➤ Automate the agent and customer service experience with click-based configuration.
Scale digital engagements to unlock business agility
Craft guided user experiences without code.
Enable users to complete complex tasks easily with a flexible, branded interface. Guide them through sales and service processes with fast, personalized responses. Seamlessly integrate with enterprise data and applications.
Streamline the integration of external data
Fast configuration of REST interfaces and declarative data mapping allows you to manage complex data structures easily. Using OmniScript and FlexCards, you can integrate external systems to create beautiful, branded experiences.
Empower agents with contextual information at a glance
Utilize only the data you need, right when you need it, to streamline and optimize business processes.
Build guided user interfaces using clicks, not code. Multiple sources of data can be used to populate FlexCards quickly.
1,867 total views