Salesforce Sales Cloud provides Customer Relationship Management (CRM) services via the cloud. The program includes tools for managing contacts, automating sales forces, forecasting sales, and improving productivity.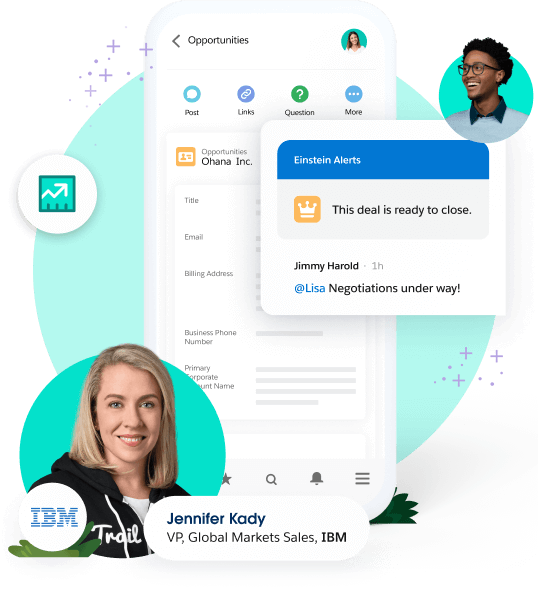 Your sales team's performance is tracked in real time with Sales Cloud. A pipeline inspection tool allows you to track changes easily, so you can identify deals that will have an impact on sales forecasts quickly. As a result, you can make adjustments quickly to achieve and exceed your goals by analyzing the data for the entire business.
To get a complete picture, your sales team needs to track everything in the Sales Cloud. Some of our most successful customers have adopted a mantra:
"If it's not in the Sales Cloud, it doesn't exist."
In Salesforce, every call, every customer interaction, and every deal closed is tracked, if not, no credit is given.
What are the benefits of Sales Cloud?
By connecting your spreadsheets and business processes to Sales Cloud, you can improve productivity with a complete view of your clients. With Sales Cloud, your team can be more productive and generate more revenue.
Account Management
Sales Cloud can be used by account managers for renewals.
In Sales Cloud, Account Managers can view their customer portfolios and manage their customer relationships based on early warning signs of a potentially unhappy customer.
When it comes time to renew a contract, account management teams can leverage Salesforce's powerful features, like Opportunity Management and Activities.
Customer Success
New customers can be onboarded using Sales Cloud's case management tools. Different teams now have a full view of the customer, enabling them to collaborate cross-departmentally. The key is to break down silos!
Sales Executives
Within Salesforce, sales executives have real-time visibility into their pipelines and forecasts to react to market changes. A bird's eye view of the sales organization can be obtained through Salesforce's powerful Reports and Dashboards.
Marketing
Can marketing teams use Sales Cloud?
Sales Cloud's Campaigns feature allows them to track conversion rates and the effectiveness of their marketing campaigns.
Marketers can also track the influence of campaigns on opportunities by using Campaigns. Salesforce's Sales Cloud seamlessly integrates with many popular platforms, including native Salesforce apps (like Pardot) and third-party apps like Marketo, MailChimp, and Constant Contact.
How do I implement Sales Cloud?
If you want to get started quickly, Trailhead is a great resource. A Certified Salesforce Partner can also help you optimize Sales Cloud to your business processes, increase user adoption, and ensure best practices are followed. Your Sales Cloud Implementation should be handled by someone with deep expertise who can help optimize your investment.
Sales Cloud Pricing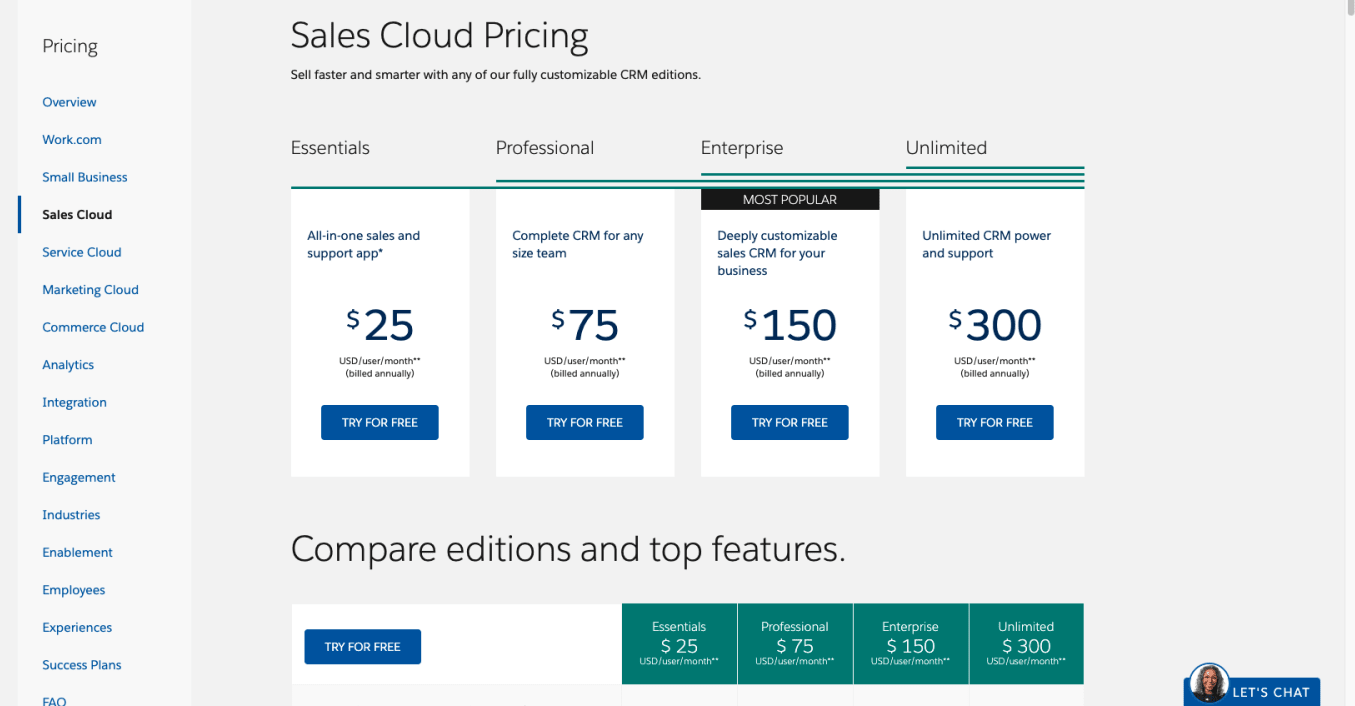 All editions of the sales cloud come with a free trial. Directly from Salesforce, you can see the most recent pricing.