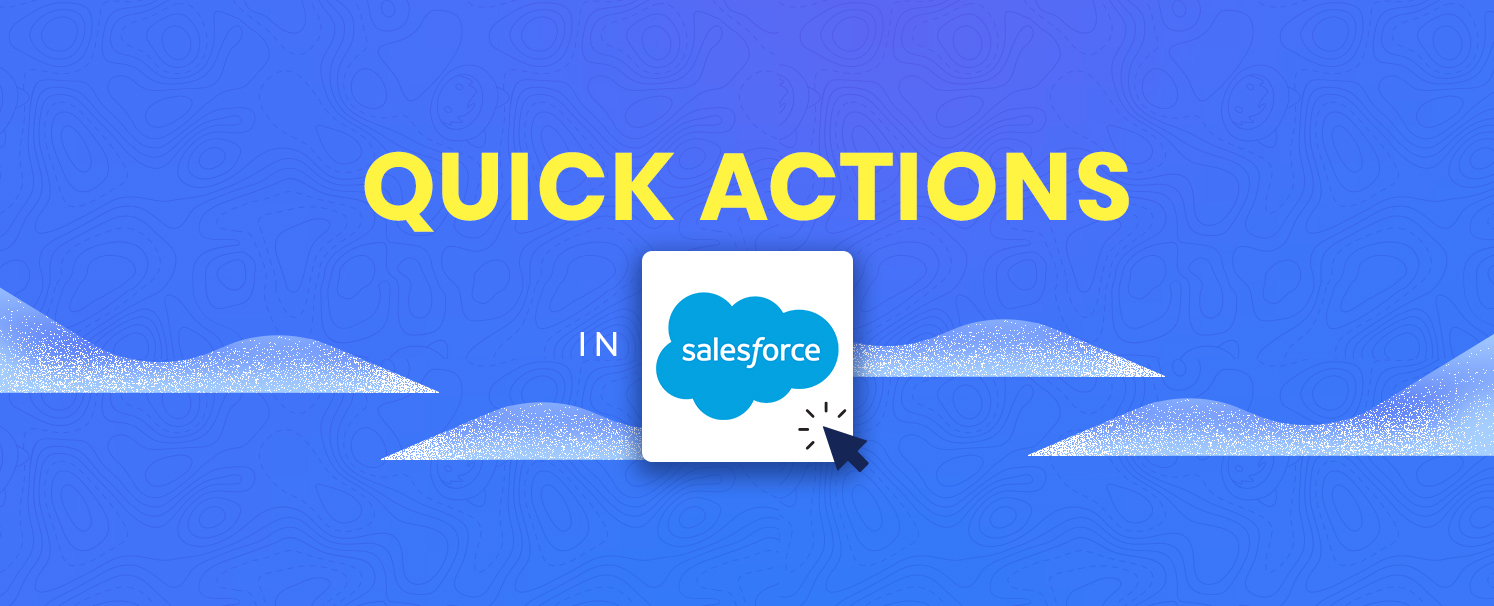 Salesforce Quick Actions give your clients a fast method for achieving an undertaking, for example, making a record, updating records, sending an email or logging a call. These are numerous standard tasks yet you can create custom activities as well.
There are two types of Quick Actions: Global and Object-specific Actions, including how to create them and where you can access each type of action.
Types of Salesforce Quick Actions
Global Actions: Are not related to a specific record and can be placed anywhere that actions are supported.
Object-Specific Actions: Are connected with a specific item, e.g. At the point when you make a Contact using the Contacts related list on an Account record, the 'Record Name' field is populated for you.
Actions on a Salesforce Record Page
You'll find your standard and custom actions in Salesforce on:
The record highlights panel

;

Activity component;

Chatter component

.

Actions on the Homepage Assistant:
The Homepage Assistant is a usefulness instrument for your clients to all the more likely deal with their day to day responsibility. The Homepage Assistant showcases up to 10 updates about Leads and Opportunities.
Users can also make another Task, make another Event and send an email from the section.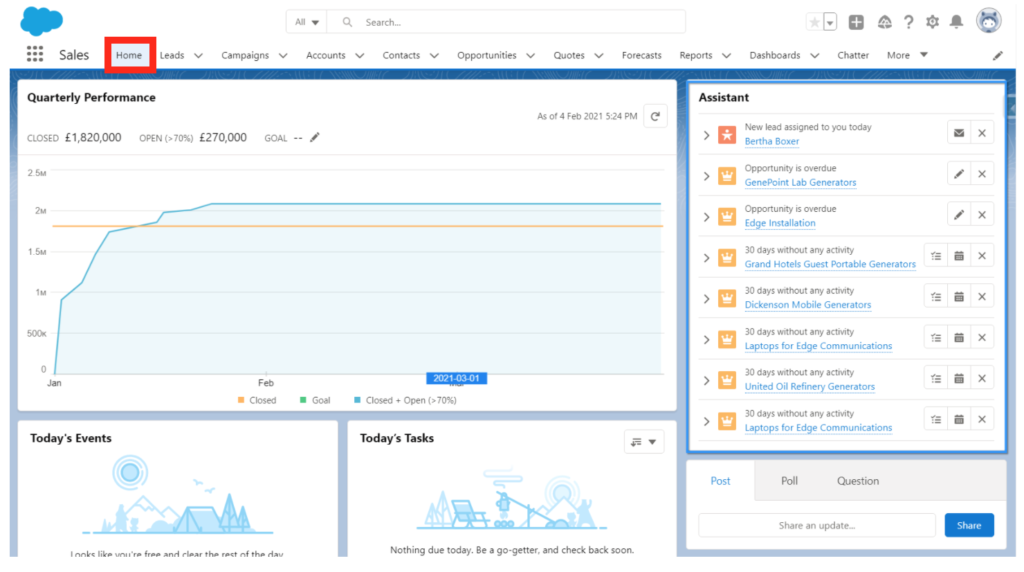 Actions on List Views
Actions can appear on list views (except the 'Recently Viewed' list view). If you create a custom action, you'll need to add the button to the object's list view search layout:

Actions on Salesforce Chatter

Global Publisher Layouts
We've seen where activities can be gotten to and utilized, however, what decides their request? Worldwide distributer formats can be set up to decide the request activities show up in specific points of interaction, for example, the Home tab, Chatter tab, and portable application.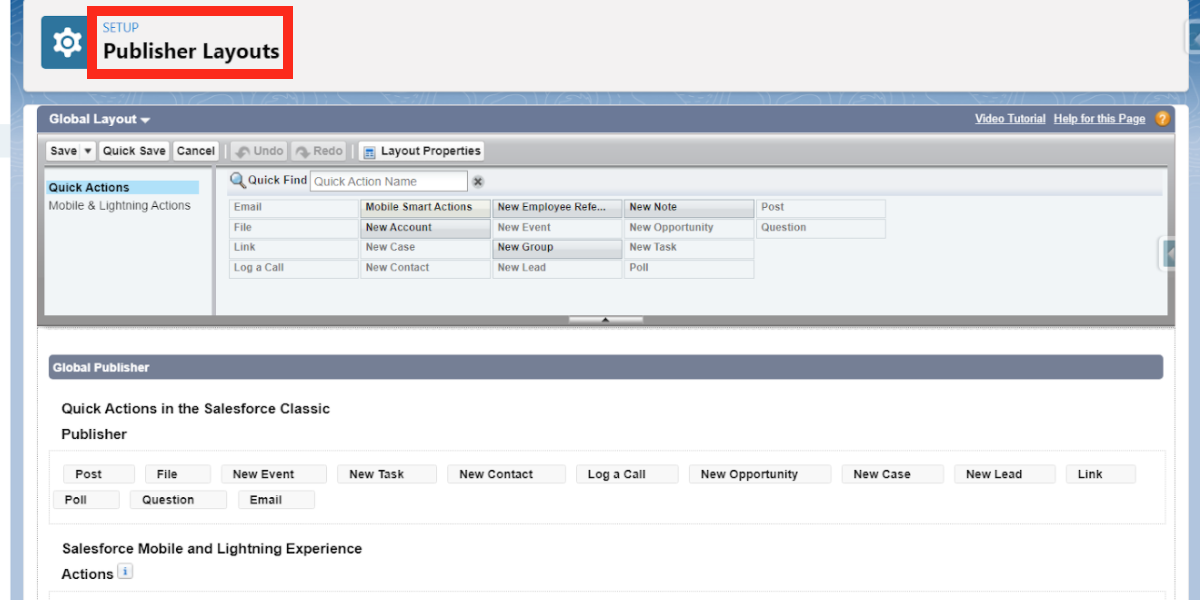 Global publisher layouts only contain Global Actions. Actions for specific objects are determined in their object page layout. 
Salesforce Global Actions:
Global actions are not related to a specific record and can be placed anywhere that actions are supported. Example Global Actions include:
Create;

Update;
Question;
Log a call
Send an email
Custom actions, which can invoke Flows, Visualforce pages and Lightning components.
How to Create a Global Action
1. Go to Setup → User Interface → Global Actions → Global Actions. Click 'New Action'.

2. Select Action Type = 'Create a Record'. Click to select your Target Object (the object you would like the action to apply to) = 'Lead', and give it a Label.
3. Click Success Message. This message will appear to the user when they complete the action.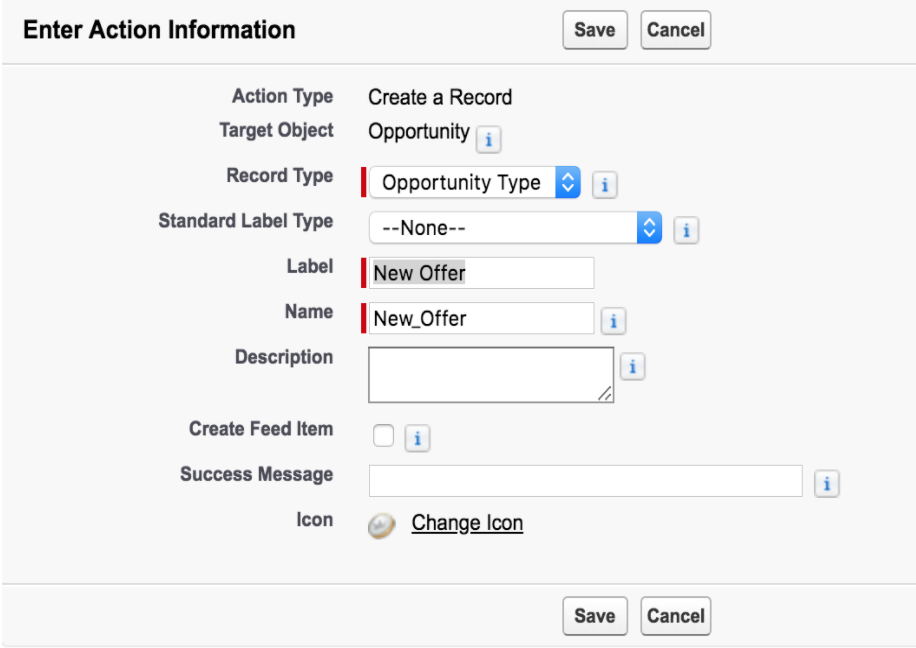 4. Then, we'll add important fields that the client should finish to the design. Notice that we did exclude many fields, including a few required fields! This is on the grounds that we can set default values in the subsequent stage – this will allow the client to save the record without having to physically enter those subtleties.
5.Let's set predefined values for Lead Status and Lead Source.
Click New, then click to open up the list of Lead fields. Select Lead Status.
Click to open up a list of predefined/accepted values for the Picklist field we selected. Select Open – Not Contacted, then click Save.
The new action can now be found in the Global Actions section at the top of the screen. When a user clicks the action, they are presented with a pop up window to create their new Lead!

6. We can now add the new action to a Global Publisher layout by navigating to Setup → User Interface → Global Actions → Publisher Layouts.
Click Mobile & Lightning Actions. With your mouse, click and drag New Employee Refe…, then drop it on to the canvas. Click Save.

The new action can now be found in the Global Actions area at the highest point of the screen. Whenever a client taps the activity, they are given a spring-up window to make their new Lead.