Salesforce, which is often referred to as "Customer 360", allows businesses to connect different parts of their business to Salesforce, giving them a 360-degree view of their customers. Salesforce provides easy-to-use connectors to seamlessly integrate the new products they've acquired (such as Marketing Cloud, Tableau, and Slack).
What Is a Connector?
Using a connector, you can communicate between two or more standalone systems, for instance, to send or receive data, or trigger certain processes in one or both. The Salesforce core platform consists of multiple products, including Sales and Service Cloud, as shown in the diagram below.
To sync data with other services, a bi-directional connector is required. Let's take a closer look at these connectors to see how they work.
Slack Connector 👀
➵ The core Salesforce platform and Slack must be tightly integrated now that Slack is part of the Salesforce family.
➵ In large Accounts or complex Opportunities, even something as simple as being able to search and reference Salesforce records will have a positive impact on cross-team collaboration.
➵ Through the Slack connector, Salesforce data can be shared via instant messaging and users can receive timely alerts without ever having to visit Salesforce.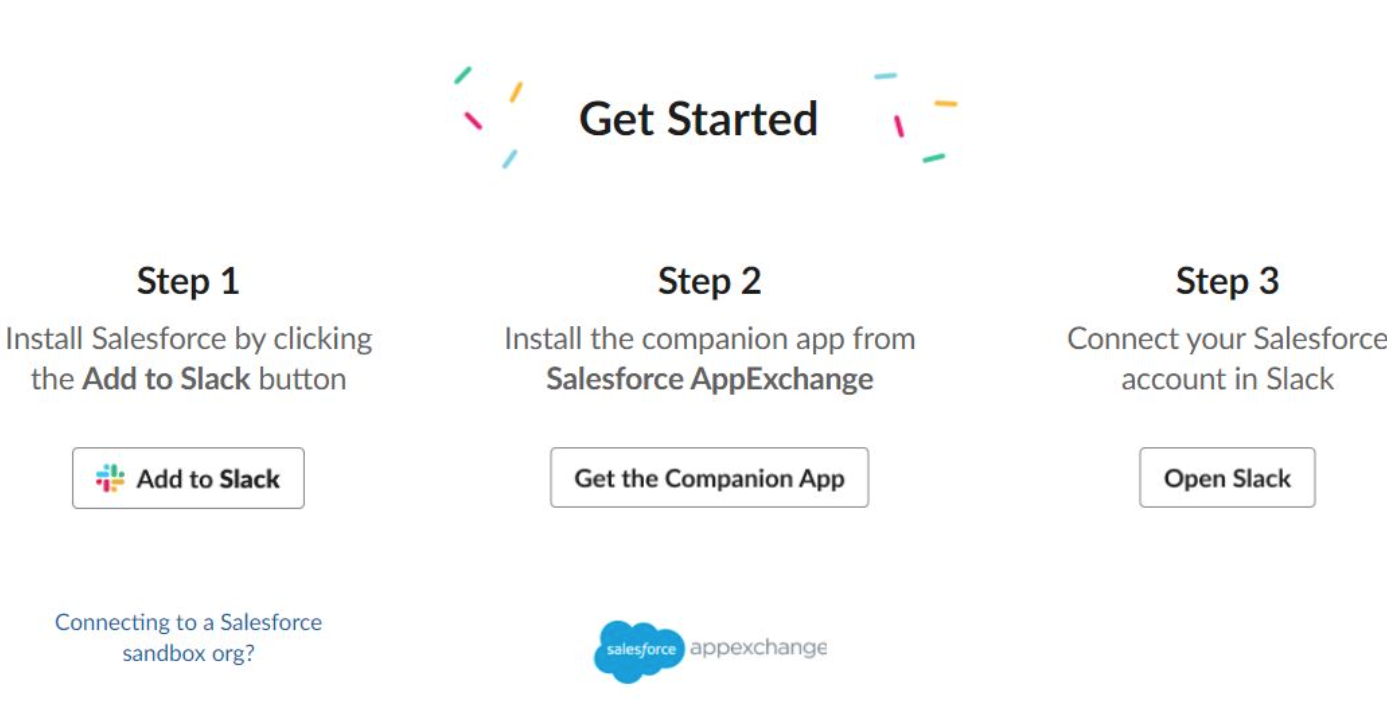 💭 Marketing Cloud and Pardot Connectors are among the most effective tools for marketers worldwide, Marketing Cloud and Pardot can be leveraged to build complex processes related to your customers or prospects.
Marketing Cloud Connect ☁️
➵ The lightning interface does not currently support Marketing Cloud Connector.
➵ The Lightning version will redirect you to Classic if you try to open it. When it comes to this integration, Salesforce has gone above and beyond to make sure everything is covered.
➵ You will be guided through everything you need, including prerequisite checklists and testing the connection.
Salesforce Pardot Connector 👩🏻‍💻


➵ Salesforce data can be sent into Pardot via APIs, with the sync between the systems occurring every 2-4 minutes.
➵ Since the sharing model between the two is quite different, knowing what data can be synced is essential.
➵ Opportunities, Accounts, and even Person Accounts (to name a few) can be visualized in Pardot, ensuring easy access to key data. Review the documentation for all considerations and features highlighted (in detail).
Tableau Connector 🧑‍🏫


➵ It has been a long time since Salesforce and Tableau partnered, much longer than the acquisition itself. The two have always been connected, but with every new release, the integration will become more powerful and seamless.
➵ While the Salesforce Connector can be leveraged from both Tableau Desktop and Online, there is a 'quick win' available for your users, which is readily available and free.
➵ With only Salesforce and Tableau licenses required, the Tableau Viz Lightning Web Component displays complex Tableau visualizations straight on Lightning Record Pages, saving users quite a few clicks.