When you sign up for Salesforce, you are given two module options, Sales Cloud vs Service Cloud.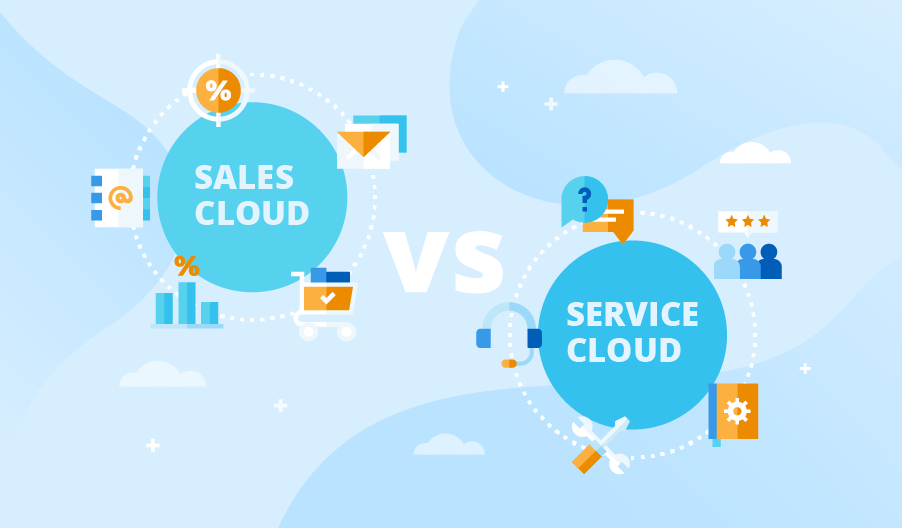 With Service Cloud, users are typically more focused on service and cases. Service Cloud helps companies that sell services and/or products, where as Sales Cloud is more helpful for companies who are focused on leads, opportunities, and sales.
Service Cloud is designed to support your current, past, and future clients' requests for assistance with your product or service. Service Cloud helps you to retain your current customers, and boost your brand's likability.
Sales Cloud Features
Management Features for:
Campaigns;
Leads & Opportunities;
Accounts & Contacts;
Dashboards & Themed Reports;
Event Scheduling & Calendars;
Activity & Task Tracking;
Customizable Objects, App, & Tabs;
Self-Service Portal;
Forecasts;
There are also Sales Cloud add-ons, such as Knowledge Base and Service Cloud Portal, which are targeted at supplying the customer with the correct product pricing in line with a controlled set of regulations. Such features meant for sale-centric clients are unavailable on a Service Cloud license.
Service Cloud features
On top of Sales Cloud's major capabilities, Service Cloud adds:
Service Level Agreements;

Dedicated Console;

Service Entitlements;

Visualized SLA Timelines;

CTI Integration;

Omni-channel Routing;

Web-to-Case;
The essential add-ons include Live Agent and Live Messaging for better customer or corporate communication.
Who Uses Salesforce: Checking the Scope of Salesforce's Industry Application
The CRM has become so large it formed a separate Salesforce industry with a devoted community and a wide user base. It is safe to say that, currently, the status of Salesforce for the service industry is as firm as ever. Let's take an in-depth look at a Salesforce industry list and see what it particularly excels at.
Sales Cloud vs. Service Cloud comparison chart
For more information about Sales Cloud vs. Service Cloud, click on this link to clarify your doubts:
https://ledgeviewpartners.com/blog/salesforce-service-cloud-vs-sales-cloud/